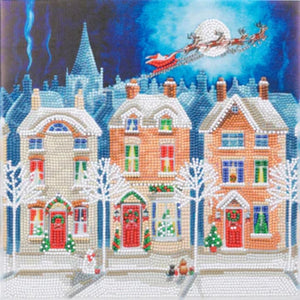 Santa Street Crystal Art Canva
Create a beautiful piece of wall art with our Crystal Art kits! These kits involve the relaxing and enjoyable Crystal Art technique, which is also known as "diamond painting". Each Crystal Art design has a numbered, adhesive template. Using the handy pick up pen(included), simply lift up the coloured crystals and place them on the corresponding numbered dots on your project. The crystals affix instantly! Once you've finished adding all the crystals, the result is a gloriously sparkly piece of wall art, which you can use to decorate your home or to give as a handmade gift. As our Crystal Art canvases are already stretched and mounted on wooden frames, they're ready to hang as soon as you've placed the last crystal!
Framed canvas size is 30cm x 30cm. This project takes approximately 6 to 10 hours to complete. Our Crystal Art kits are suitable for ages 8 and up. Check out our other Crystal Art Canvas kits here .
This complete craft set includes:
1 x Crystal Art template, mounted on wooden frame
Pick up pen
Tray
Wax
Bags of resin gems
Pre-sorted packs of crystals
Storage bags for extra crystals
Instruction manual
---
We Also Recommend