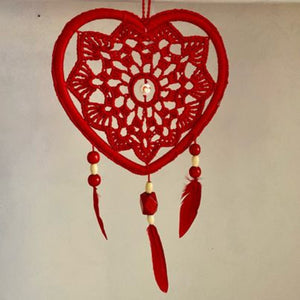 Dream Catcher
Originally dreamcatchers were a tradition of Native Americans who believed good and bad dreams floated freely in the night air. The good or positive dreams knew how to slip through the mesh of the dreamcatcher and could slip down the feathers to the sleeping individual. The bad or negative dreams got entangled in the dream catcher and perished when sunlight fell on them.
A dreamcatcher is much more than just a simple gift, it tells the person you give it to that you care about their wellbeing and peace of mind.
If you give a gift of a dreamcatcher you also share the story of the origin of the gift. When they are asked about it, they in turn share the story of you giving the gift to them and the history of the dreamcatcher. So, by giving a dreamcatcher as a gift, you are creating a cycle which allows our loved ones and friends to know we are thinking of them whenever they look at the dreamcatcher they were given.
This dreamcatcher is crocheted by Miki of Mikiloops in red cotton making it a perfect St Valentines's gift but it would be a great gift at any time of year.
Size 18 x20cm (approx 7" x 8")
Please note that shades may differ slightly due to different monitor settings 
---
We Also Recommend