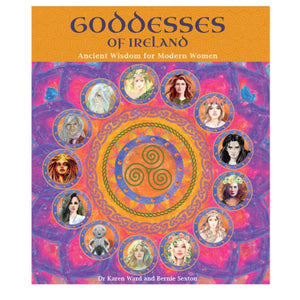 Goddesses of Ireland Book
Ancient wisdom for modern women.
The Irish Goddesses from the Tribe of Mother Earth, known in Gaelic as the Tuatha Dé Danann speak to us through their legends and ancient Rites of Passage. These Divine Feminine deities were revered by our Ancestors as they offered sage guidance throughout their lives. Today they speak to us from the past resonating with the times we live in gifting us wisdom, grace and knowing as we stand equal but different to our menfolk.
Thirteen Goddesses of Ireland reach forward from the mists of time as potent archetypal energies to empower us today.
Here contemporary Irish women share their personal accounts of how these Goddesses resonate with them, informing and influencing their lives.
This beautiful spiritual book highlights how these female Irish deities and their wisdom echo down the ages to inspire, encourage and guide us today.
Size 24cm x 21cm.
---
We Also Recommend