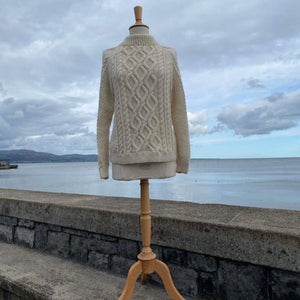 Hand knit Cable Sweater
This unique and stylish hand-knit wool and alpaca cable sweater is perfect for keeping you warm and cosy through the colder months.
The Aran-style design provides breathability and a casual look, and is soft and comfortable to wear.
It is handknitted under the Once Made in-house brand by Camilla of Millamull art and design. Camilla lives locally, works in the shop on a regular basis, and has been knitting for us for many years. Her wristwarmers, shawls, hats and knitted animals are popular items in the shop.
You can order a custom made sweater similar to this in your own size and shade preferernce by calling into the shop or sending us a message.
A turn around time of 3 -4 weeks is needed for a sweater. 
The sweater shown here is a meduim and is knitted in the traditional "aran" shade.
Make sure to order in time for Christmas!
---
We Also Recommend