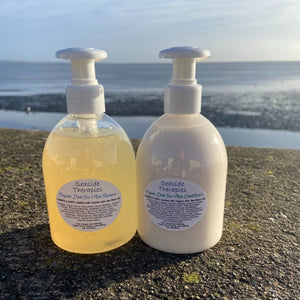 Seaside Therapies Organic Irish Sea Moss Shampoo and Conditioner
Calling all fans of shiny, healthy hair! Treat yourself to our new Organic Irish Sea Moss Shampoo and Conditioner by Aisling of Seaside Therapies: packed full of natural oils and minerals that'll work wonders for you. Goodbye dandruff, hello gorgeous locks! Our shampoo and conditioner will help your hair grow long and strong, while providing maximum shine and nourishment. Time to take your hair game to the next level!
Organic Irish Sea moss shampoo Code certified organic Irish Sea moss shampoo with lemon, spearmint and rosemary essential oils.
Please note: not for processed hair or anyone allergic to sea food or iodine.
Irish Sea moss is packed with valuable nutrients and combined with essential oils you have a powerhouse of ingredients to nourish your hair.Eases dandruff and increases health and shine, promotes hair growth. Works to soften hair in hard water areas.
Available in large 250ml bottles Organic Irish sea moss conditioner with cedarwood and geranium for glowing hair. This 250ml bottle will last and last! Same  product info as for  shampoo.
---
We Also Recommend