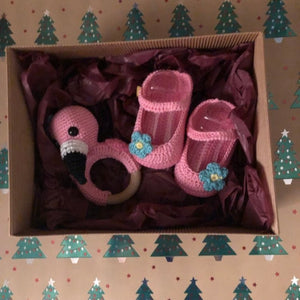 Tiny Tots Box
Absolutely the sweetest little gift boxes for a new baby girl - Tiny Tots Boxes by Miki of Mikiloops.
Each box contains a pair of the tiniest hand made shoes, hand crocheted in cotton. With their little straps across the foot to keep them in place, these will accessorise a special outfit beautifully.
One box has shoes in flamingo pink cotton and a matching flamingo ring rattle to accompany them.
The other is in a pale pink and has a matching headband.
Both are hand crocheted by Miki who, lives locally, using a crochet technique called amigurumi.
The box is made of a sturdy ribbed card with a transparent lid and is tied with a ribbon with a gift tag attached.
Buy Local - Buy Irish
Ready to Go!
---
We Also Recommend